Nursing Topics
Top Nursing Informative Speech Topics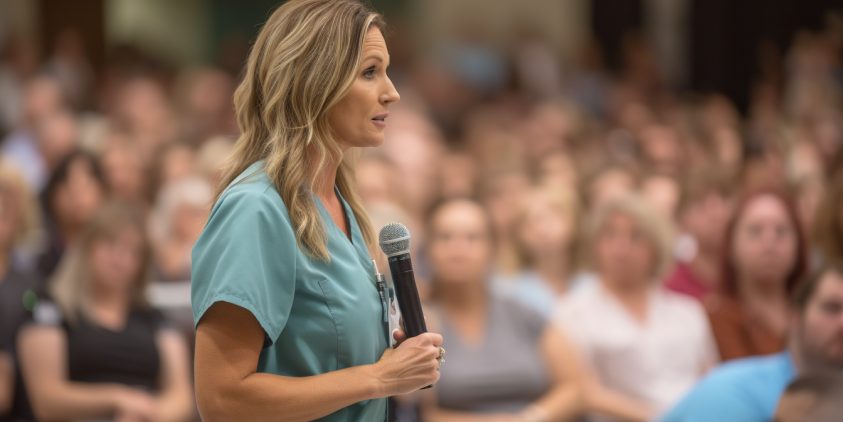 Informative speeches play a significant role in nursing education and practice, as they help to disseminate vital information to students, professionals, and the general public. Choosing engaging and relevant speech topics is crucial to captivate your audience and showcasing your nursing expertise. This blog post aims to provide an extensive list of informative nursing speech topics and tips for selecting the perfect topic and delivering a captivating presentation.
Tips for Choosing the Right Nursing Informative Speech Topic
Consider Your Audience's Interests and Needs
Before selecting a topic, consider the interests and needs of your audience. Tailor your speech to address their concerns, questions, or knowledge gaps. This will ensure that your presentation is relevant and engaging for your listeners.
Assess Your Knowledge and Expertise
Choose a topic you know sufficiently about or are passionate about learning more about. Your enthusiasm for the subject will shine through in your speech, making it more captivating for your audience.
Research Current Trends and Developments in Nursing
Stay updated on the latest trends and developments in nursing to select a timely and relevant topic. This will make your speech more interesting and showcase your commitment to staying informed about your profession.
Select a Topic that Aligns with Course Objectives or Professional Goals
Choose a topic that aligns with your course objectives or professional goals to ensure your speech is informative and relevant to your educational or career path.
Medical Studies Overwhelming?
Delegate Your Nursing Papers to the Pros!
Nursing Informative Speech Topics: Categories and Ideas
Patient Care and Safety
Effective Communication Techniques in Nursing:
Explore various communication strategies that nurses can use to improve patient care and safety, such as active listening, empathy, and non-verbal cues.
Importance of Patient Education in Chronic Disease Management:
Discuss the critical role of patient education in managing chronic illnesses, such as diabetes, hypertension, and heart disease.
Preventing Hospital-Acquired Infections:
Share evidence-based practices for preventing the spread of infections in healthcare settings, including proper hand hygiene, sterilization techniques, and environmental cleaning.
Strategies for Pain Management in Diverse Patient Populations:
Delve into the various approaches to pain management for different patient populations, including pediatric, geriatric, and palliative care patients.
Nursing Ethics and Legal Issues
Ethical Dilemmas in Nursing Practice:
Examine common ethical dilemmas that nurses may encounter, such as informed consent, end-of-life care, and patient privacy.
Informed Consent and Patient Autonomy:
Discuss the importance of informed consent in healthcare and the role of nurses in ensuring that patients understand their treatment options and make autonomous decisions.
Nurses' Role in Advocating for Patient Rights:
Highlight the essential role of nurses in advocating for patient rights, including privacy, informed consent, and access to quality care.
The Impact of Healthcare Laws and Regulations on Nursing Practice:
Analyze the effects of various healthcare laws and regulations on nursing practice, such as the Affordable Care Act, HIPAA, and scope of practice laws.
Nursing Specialties and Advanced Practice
Exploring the Role of Nurse Practitioners in Primary Care:
Describe the role and responsibilities of nurse practitioners in primary care settings, including diagnosing, treating, and managing chronic conditions.
The Challenges and Rewards of Working in Intensive Care Units:
Discuss the unique challenges and rewards of working in intensive care units (ICUs), including high-stress environments, complex patient cases, and advanced clinical skills.
The Growing Importance of Geriatric Nursing:
Delve into the increasing demand for geriatric nursing as the global population ages, and explore the specialized skills and knowledge required in this field.
Caring for patients with cancer: Discuss the vital role of oncology nurses in providing care and support to cancer patients, from diagnosis through treatment and survivorship.
Mental Health and Nursing
The Role of Psychiatric Nurses in Mental Health Care:
Explore the responsibilities and skills required of psychiatric nurses, including assessing, diagnosing, and treating mental health conditions.
Addressing Burnout and Compassion Fatigue in Nursing:
Discuss the prevalence and impact of burnout and compassion fatigue among nurses, and share strategies for recognizing and managing these issues.
Promoting Mental Health and Well-Being among Nurses:
Share tips and resources to prioritize their mental health and well-being, such as self-care, stress management, and seeking support from peers and mentors.
The Impact of Mental Health Stigma on Nursing Care:
Examine how mental health stigma can affect nursing care and discuss strategies for combating this stigma within healthcare settings.
Nursing Education and Professional Development
The Benefits of Continuing Education for Nurses:
Discuss the importance of lifelong learning in nursing and the various opportunities available for continuing education, such as conferences, workshops, and online courses.
The Role of Mentorship in Nursing Professional Development:
Explore the benefits for mentors and mentees, and discuss strategies for building effective mentor-mentee relationships.
The Importance of Interprofessional Education in Nursing:
Explain the value of interprofessional education in promoting collaboration and teamwork among healthcare professionals, ultimately improving patient outcomes.
Preparing for the NCLEX Exam:
Share tips and strategies for nursing students preparing to take the NCLEX exam, including study resources, test-taking techniques, and stress management.
Topic Examples
Nursing Specialties and Roles
The role of nurse practitioners in primary care settings
The challenges and rewards of emergency nursing
Neonatal nursing: caring for newborns in their first weeks of life
The vital role of hospice and palliative care nursing
The evolving role of Nurse Practitioners in primary care
The importance of Clinical Nurse Specialists in specialized care settings
The role of Nurse Anesthetists in surgical procedures
Forensic Nursing: Bridging the gap between healthcare and the legal system
The rise of Nurse Informaticists in the age of digital healthcare
Forensic nursing: bridging the gap between healthcare and criminal justice
Pediatric nursing: caring for children and adolescents
The diverse opportunities in public health nursing
The role of the nurse anesthetist in surgical settings
Occupational health nursing: Promoting safety and well-being in the workplace
The contributions of nurse midwives to women's health
The role of nursing informatics in modern healthcare
Travel nursing: Exploring the world while caring for patients
Community health nursing: Addressing health disparities and promoting equity
Cardiac nursing: Caring for patients with heart conditions
The importance of case management in nursing
Home health nursing: Providing care in the comfort of patients' homes
The evolving role of nursing in telehealth
Nursing Ethics and Advocacy
The importance of patient advocacy in nursing
Addressing cultural competence in nursing care
Ethical decision-making in nursing practice
Nursing and the importance of patient confidentiality
The nurse's role in promoting patient autonomy and informed consent
The ethical challenges of end-of-life care decisions
Advocacy for patient rights in the age of data privacy concerns
The ethics of genetic testing and nursing responsibilities
Addressing moral distress among nurses in critical care settings
The role of nurses in healthcare policy advocacy
End-of-life care and ethical considerations in nursing
The impact of nursing advocacy on healthcare policy
Promoting social justice and health equity in nursing practice
The nurse's role in preventing and addressing medical errors
Ethical considerations in organ transplantation and nursing care
Balancing professional boundaries and compassionate care in nursing
The role of nurses in addressing healthcare disparities
Nurses as leaders in promoting patient safety and quality care
The impact of nursing ethics on patient satisfaction and outcomes
The nurse's role in addressing healthcare fraud and abuse
Ethical considerations in nursing research
The importance of ethical leadership in nursing
Patient Care and Nursing Skills
The importance of patient-centered care in nursing
Developing effective communication skills for nurses
The role of evidence-based practice in nursing care
The importance of cultural competence in patient care
Advanced wound care techniques for chronic wounds
The role of nurses in pain management and opioid crisis mitigation
Implementing evidence-based practices in daily nursing care
Enhancing patient education for better post-discharge outcomes
The importance of critical thinking and clinical reasoning in nursing
The role of nurses in pain management
The nurse's role in promoting patient and family education
Managing challenging patient situations and behaviors in nursing
The importance of infection control and prevention in nursing practice
Caring for patients with chronic illnesses: the role of the nurse
The nurse's role in promoting health literacy among patients
The importance of cultural humility in nursing practice
Nursing care for patients with complex medical conditions
The nurse's role in promoting patient adherence to treatment plans
Managing transitions of care in nursing
Nursing care for patients with disabilities
The importance of interdisciplinary collaboration in nursing practice
The role of nurses in supporting caregivers and families
The Art of Informative Speaking in Nursing
In the rapidly evolving world of healthcare, the ability to communicate complex information in an understandable manner is paramount. For nursing professionals, informative speaking is more than just a presentation skill; it's a tool for patient education, interdisciplinary collaboration, and healthcare advocacy.
Why Informative Speaking is Vital in Nursing
Patient Education

Nurses often find themselves explaining medical terminologies, procedures, and treatment plans to patients and their families. A well-delivered informative speech can empower patients, leading to better compliance and improved health outcomes.

Interdisciplinary Collaboration

Nurses work in multidisciplinary teams. Being able to present information clearly ensures seamless collaboration, enhancing patient care quality.

Healthcare Advocacy

Whether it's advocating for patient rights, better working conditions, or policy changes, nurses can use informative speaking to influence decision-makers and drive change.
Tips for Effective Informative Speaking in Nursing
Know Your Audience

Tailor your speech based on the audience's background knowledge. The way you explain a procedure to a fellow nurse might differ from how you'd explain it to a patient.

Use Analogies

Medical concepts can be complex. Analogies can simplify these concepts, making them more relatable to the audience.

Avoid Jargon

While medical terms might be second nature to you, they can be confusing for others. Ensure you explain or replace jargon with simpler terms.

Engage the Audience

Use real-life examples, anecdotes, or even visual aids to keep the audience engaged and make the information memorable.

Practice, Practice, Practice

Like any other skill, the art of informative speaking improves with practice. Rehearse your speech, seek feedback, and continuously refine your delivery.
In conclusion, as nurses take on more diverse roles in healthcare, from clinical care to policy advocacy, mastering the art of informative speaking becomes increasingly crucial. By honing this skill, nurses can better educate, advocate, and collaborate, furthering their impact on patient care and the broader healthcare landscape.