Essay Examples
Healthcare Management: Career Paths and Requirements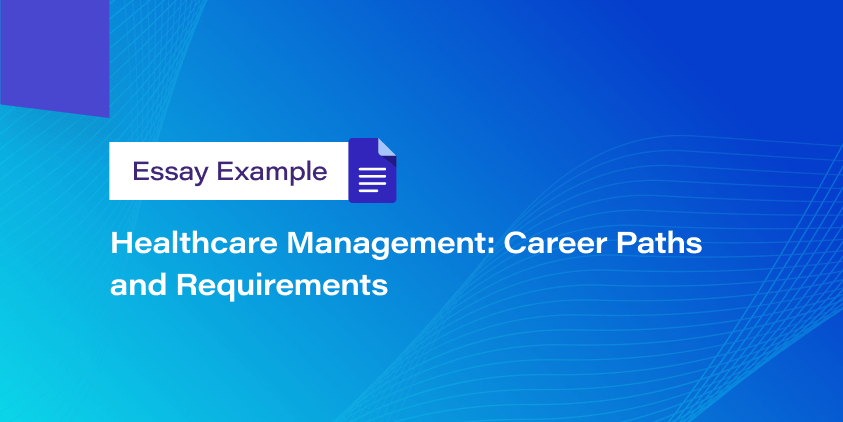 Nowadays, healthcare has become one of the most dynamic and growing fields that provide various opportunities and challenges. Healthcare is changing faster than any other sphere. Some of the changes seen in this sector are how services are provided and how care is delivered and financed, among others. As a result, healthcare management requires talented personalities to address all the changes. Healthcare executives are entitled to contribute to improving the healthcare of communities and organizations they serve. Due to the growing diversity within the health care system, executives are more needed in diverse settings, such as clinics, hospitals, public health departments, rehabilitation centers, and health insurance organizations, to mention a few. Approximately 10,000 individuals occupy health management positions at numerous organizational levels. It is important to understand that the requirements for senior positions in healthcare settings are too demanding. However, these jobs offer ways of improving the system of care delivery. The following essay discusses top management careers in the healthcare field.
Hospital Chief Executive Officer
Requirements
A hospital CEO is the highest level job in health management. This position heads the facility. To become a hospital CEO, an individual must have a master's degree. Some of the common master's degrees held by CEOs include a Master of Business Administration (MBA), Master of Healthcare Administration (MHA), and Master of Medical Management (MMM). To compete in this industry, the master's degree that an individual holds must be accredited by the Commission Accreditation of Healthcare Management Education (CAHME). To become a hospital CEO, an individual should have fifteen years of experience in a health management setting.
Further, they should also have five years of overall experience in a senior management position. Most CEOs hold the position of COO before becoming a CEO. Quality mentoring is highly recommended for those aspiring to become CEOs.
Job Description
It is the responsibility of a CEO to ensure the smooth running of the hospital. One of the key duties is ensuring patient safety. The security of patients is a significant aspect of a safe healthcare organization. Thus, CEOs play a primary role in developing, evaluating and implementing patient safety measures. Secondly, the CEO promotes the quality of healthcare. Notably, this factor is recognized as critical to any hospital's functioning. Thirdly, CEO maintains financial health and stability. Hospital CEOs ought to be conversant with all management practices related to finances to support the Chief Finance Officer (CEO) in decision-making. The fourth responsibility is strategic planning. It is a critical function for the hospital CEO and entails regular meetings with other senior executives, such as Chief Medical Officer (CMO) and Chief Nursing Officer (CNO), alongside others, to discuss the future objectives and goals for the hospital.
Salary and Challenges
The average compensation salaries for hospital CEOs are $ 600,000 annually, while CEOs in small rural hospitals earn salaries and bonuses of $118,000 annually. On the other hand, those in the largest urban teaching hospital make an average of $1.7 million per year. Joining the hospital industry as a CEO is a challenging job. For one to qualify, an applicant must have a medical background. The number of experiences needed to become a CEO is also high, and one must have a prior experience in healthcare administration and management positions. One of the significant challenges that hospital CEOs face is the implementation of healthcare reforms. Hospital CEOs feel much pressure when reducing operating costs, shifting to value-based purchasing, aligning provider and payer incentives, and working closely with physicians. Despite their many challenges, they have a satisfying feeling in their work since they are the most paid. However, it is not easy to get into this industry for individuals who lack a master's degree and years of experience, as stated above.
Hospital Administrator
Requirements
In every hospital, skilled administrators ensure that all medical facilities run efficiently and deliver quality patient care. Depending on the size of a hospital, a facility can have one or more administrators. To qualify for a hospital administrator position, one must have completed a post-graduate course specifically in hospital administration or any equivalent experience and training. The required maximal number of years is approximately five. The qualification for the position is a diploma in hospital management and other three years of business experience. Most of the top hospitals hire individuals with master's degrees. The candidates for hospital administrator jobs must be knowledgeable in public health and health services administration. Hospital administrators should also know personnel and business management principles, particularly in hospitals. They should be able to communicate effectively orally and in writing.
Job Description
A hospital administrator is responsible for organizing, planning, directing, and controlling all resource services and departments of the center. They include personnel, facilities, equipment and supplies, and finances. Secondly, they also administer the hospital's total budget. Besides, they actively plan with other government officials and senior health centers. A hospital administrator also develops and directs the implementation of programs and policies in the service of the center and resource departments. Additionally, they can act as chief advisors to the medical director, specifically in implementing and developing the center's programs, procedures and policies. The hospital administrator also promotes and maintains effective public relations with community agencies, government, and individuals.
Salary and Challenges
In the United States, the earnings for hospital administrators range from $96,000 per year on average, while the pay ranges between $48,000 and $177,000 yearly. The biggest paychecks entail nearly $25,000 from bonuses, though $12,000 comes from profit sharing. One of the challenges that hospital administrators face is staffing issues. Notably, this problem affects nearly every individual at the hospital, from an executive team to physicians and patients. Hospital administrators spend significant time ensuring that their institutions have the best healthcare professionals who meet the needs of the hospitals. The question of inadequate staffing leads to quality-related issues. Another challenge refers to changes in payment structure. Administrators are responsible for addressing all issues brought about by changes in this area. Over the past years, the pay-per-service payment model has been prevalent, but nowadays, the approach still needs to be updated. The new regulations ensure that hospital charges fees depending on the general outcome and quality of care delivered. The third challenge is hospital-physician relations. As baby boomers retire, the number of physicians available in the hospital also decreases. Thus, administrators are faced with a significant dilemma of needing more supply to meet the demands of the patients. Most physicians also prefer to work for short hours. Thus, only a few physicians are left to meet emergency cases at the hospital.
Individuals interested in pursuing a career as a hospital administrator should know that it will be advantageous to them as the career offers a satisfying feeling. However, they must learn all the challenges administrators are likely to encounter. By analyzing the challenges, one can decide whether one still wishes to pursue a career in this field.
Chief Finance Officer
Requirements
Hospital CFOs are responsible for making sure that entire medical facilities are run properly, especially from a financial point of view. However, the minimal requirement is a bachelor's degree. The only choice a person has to make is whether they would like to major in healthcare or medicine. Ideally, one can become a hospital CFO with only a bachelor's degree or even if an individual is a certified public accountant (CPA). However, the top hospitals are screening for more experienced personnel with a Master of Business Administration (MBA) or Master of Healthcare Administration (MHA). There is much competition for top-level executive jobs in hospitals. Demonstrable skills and experience are the most crucial aspects that employers and hospitals look for when recruiting a CFO.
Successful CFOs must possess significant experience in executive or managerial positions. In most cases, hospital CFOs must be visionaries and result oriented. They should have a considerable stake in the general direction of the hospital. They are more business partners rather than regularly paid employees. Those individuals who wish to work as CFO at hospitals must learn the technical aspects of personnel management, accounting, and finance.
Job Description
CFOs are responsible for the maintenance of the financial well-being of their facility in both floundering and flourishing economies. Their leadership is significant since it allows hospitals to allocate resources appropriately to take on projects. CFO communicates their facility's objectives and organizational goals concerning financial performance targets. In most hospitals, financial goals are set to decrease costs, increase revenues, or both. Thus, it is the responsibility of the CFO to communicate particular goals to the staff. CFOs also manage the delicate balance of benefits and costs of human capital. Thus, a CFO should be knowledgeable about the needs of their workers and, at the same time, balance the business needs. CFOs guide product development and marketing strategies based on market analysis and trends. This set of activities includes projections and supply management, cost estimates, human capital projections and ROI estimates, especially for new services and products.
Challenges and Salaries
An average salary of a CFO is $122,000 annually, while the profit-sharing proceeds to nearly $45,000 and bonuses approach $66,000. Thus, the overall income of a CFO ranges between $67,000 and $252,000, depending on how an individual performs.
On the other hand, CFOs face numerous challenges in the line of duty. Hospitals are preparing to change to value-based business models, and therefore, CFOs should facilitate physician employment arrangements. For this reason, they must be prepared to deal with all issues related to care coordination, ongoing performance measurements, and population health management. This is one of the biggest challenges for hospital leadership teams, and hence, CFO must play a key role in the transformation process. Due to health reforms, running a hospital finance department has always been challenging for CFOs. The use of electronic medical records has also posed a major challenge to hospitals. Getting into the healthcare industry as a CFO is easy. However, the candidate must meet all the requirements mentioned above. In contrast, being a CFO is a challenging job. Nonetheless, this post offers a satisfying feeling for those with the required experience.
Physician Practice Manager
Requirements
Physician practice managers work within a group or medical practice to manage budgets, develop business strategies, and oversee the day-to-day operation, such as billing collections and scheduling. They also make sure that all business practices are integrated. In addition, they work dynamically to ensure that new patients receive high-quality care. Most hospitals prefer a candidate with a master's degree in business management. In other hospitals, a candidate with a bachelor's degree can qualify for the position. The preferred candidate should have at least five years of working experience. To be eligible for a physician practice manager, an individual must possess analytical and leadership skills. Apart from that, they should be knowledgeable in different computer software programs. The ideal candidate should be able to work as part of a team and have strong communication skills.
Job Description
Whether it is a small or big facility, the primary responsibilities of physician practice managers entail planning, coordinating, directing, and supervising various elements of the medical institutions. They also oversee the billings and collections and sometimes implement work policies for their employees. Notably, these managers have daily interactions with patients and employees. Physician practice managers can specialize in a specific department or even manage an entire practice. In a small facility with minimal physicians, the manager handles scheduling the daily patient flow and technical issues. In a larger facility, only one top manager is required and several assistants. They all ensure that business day is handled according to the medical and office guidelines. These managers are also expected to have problem-solving skills to address all issues and complaints within the office. Since they are managers, they are supposed to be always organized and ensure a steady flow of work daily. Moreover, these managers must supervise office staff, including coders, medical billers, and receptionists, and the back office, such as medical assistants and nurses.
Salaries and Challenges
A physician practice manager earns $ 56,481 yearly on average. Notably, the pay for this job mostly stays the same depending on the individual's experience. These managers encounter many challenges, just like any other healthcare professional. One of the challenges is patients dictating healthcare. Efforts to balance the desire to practice quality medicine and obtaining positive patient feedback have been a growing problem for physicians. Physician managers always expect patients to be satisfied with the services offered. The second challenge is staff retention. Physician managers always strive to make their workers happy. However, recruiting and retaining the best personnel remains challenging for many medical practices.
The third problem is administrative burdens. Mounting paperwork prevents the physician from spending significant time with patients. Becoming a physician practice manager entails little. However, the nature of the work is satisfying since these managers spend considerable time interacting with their staff and patients.
Supply Chain Manager
Requirements
Supply chain managers, also known as sourcing managers, are responsible for handling all the supply operations within facilities. Successful candidates must be able to improve and evaluate all supply chain activities by analyzing the company's spending, supplying partnerships and any other new possibilities. An ideal candidate for the position of sourcing manager should have a Bachelor of Science degree in supply chain management, business administration, or logistics. The suitable individual for the position should also have strong leadership and project management skills. Besides, they ought to be able to negotiate and sustain all networking relationships. Sourcing managers should have solid judgment and be able to make the right decisions.
Further, they must prove their prior working experience as a supply or procurement manager in any setting. A supply manager should know vendor management, sourcing, and relevant software. They must be comfortable with figures and able to interpret and analyze data. A supply manager should communicate openly.
Job Description
Supply managers are entitled to several responsibilities. First, they are responsible for managing all facility's supply portfolios. This will ensure transparency of spending. Supply managers also generate and implement efficient sourcing and category management strategies. They also calculate and analyze the costs of the supply chain and suggest other methods or ways of decreasing expenditure. They are responsible for determining the time and number of items and deliveries made. A sourcing manager must look for great deals and also invent negotiation strategies. They also optimize the procedures used in sourcing to attain maximum efficiency. Supply managers, too, perform all cost analyses and benchmarking. They also estimate risks and apply necessary risk management techniques to minimize the risks. They also ensure they discover and partner with all trustworthy suppliers and vendors. Finally, they cooperate with stakeholder and guarantees processes and terms.
Salary and Challenges
The average pay for sourcing managers is $82,000 per year. It can also range from $123,000 on the higher end and $50,000 on the lower end. Bonuses and profit sharing range from 18,000 and 16,000, respectively. One of the challenges faced by sourcing managers is drug shortage. This issue has affected the supply chain and the health systems at large. In most instances, drug shortages occur with little or no warning to providers. However, advocacy efforts are improving early notification and responses. A shortage of drugs in hospitals causes many issues in supply chain management. The second challenge is multiplied and involves lacking a team, deep sourcing, and industry expertise. This can be a huge threat to the facility. The team could be experienced or talented, but their talents must be channeled better. Thus, individuals fit for the position should be able to elevate the sourcing to another level of maturity. The third challenge is finding compliance with contracts. Finding the right way to ensure the conformity of contracts becomes a major problem for sourcing managers. Most contracted suppliers are ignored, and this frustrates the managers. Supply managers require strong supplier, contract, and vendor management technologies. Being a supply manager in the healthcare industry takes work. This position comes with many challenges which only a few individuals can handle.
Conclusion
Similarly to any other organization or corporation, hospitals offer management careers. Some of these careers include hospital CEOs, administrators, chief finance officers, physician practice managers, and sourcing managers. These careers are of much significance in any industry. Today's healthcare is rapidly changing. Thus, with the help of hospital management, the changes can be easily managed. The ideal candidates for the managerial position must have relevant experience, especially in the healthcare system. The primary responsibilities of individuals in the hospital management department are overseeing the efficient maintenance of quality healthcare delivery and utilizing hospital resources. In most instances, the persons in these managerial positions guide staff members toward achieving a positive healthcare environment. They ensure that rules and regulations are followed accordingly.
📎 References
1. Aldrich, J. (2013). Climbing the healthcare management ladder: Career advice from the top on how to succeed. Baltimore, MD: Health Professions Press.
2. American College of Healthcare Executive. (2013). Careers.
3. Broscio, M. A. (2014). Career management in today's healthcare environment. Journal of Healthcare Management, 59(6), 395-398.
4. Friedman, L. H., & Kovner, A. R. (2013). 101 careers in healthcare management. New York, NY: Springer.
5. Gopee, N., & Galloway, J. (2013). Leadership and management in healthcare. Thousand Oaks, CA: Sage Publications.
6. Hubbard, R. L. (2015). What degree do I need to pursue a career in health care? New York, NY: Rosen Young Adult.
7. Mitchell, D., & Haroun, L. (2012). Introduction to health care. Clifton Park, NY: Delmar, Cengage Learning.
8. Public Health Online. (2013). Exploring growths, salaries and career paths for healthcare administration students and professionals. Retrieved from http://www.publichealthonline.org/healthcare-administration/#context/api/listings/prefilter
9. Stein, J. A., & Chiplin, A. J., Jr. (Eds.) (2016). 2016 Medicare handbook: Center for Medicare Advocacy. New York, NY: Wolters Kluwer.
10. UCDAVIS University of California (2016). 5+ top MBA Healthcare Management Careers + Salary Outlook. Retrieved from: http://mhadegree.org/mba-healthcare-management-salary/