Essay Examples
The Importance and Nuances of ECMHC: An Insightful Essay Sample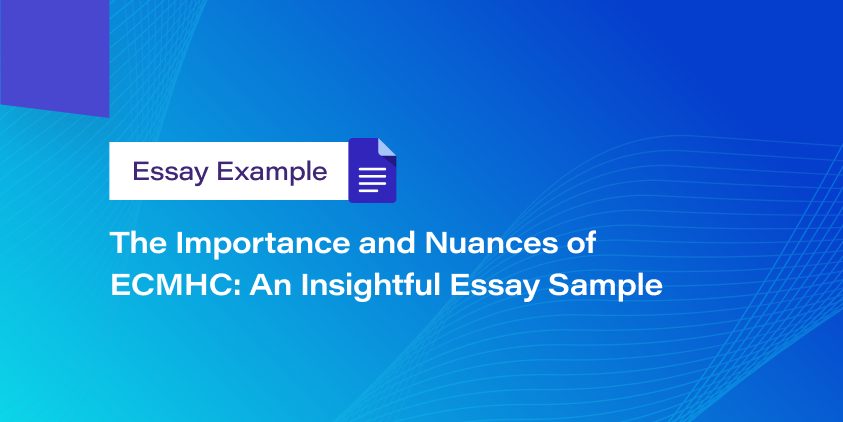 Early Childhood Mental Health Consultation
Early childhood mental health consultation (ECMHC) refers to provisions promoting children's emotional and social progress (Hepburn et al., 2007). Johnston and Brinamen (2012) view it as consultation in early childhood care, which has been made necessary by increasing problematic behaviors among young children. All this comes from a greater level of out-of-home care, where most parents prefer to have their children in groups instead of individual home care (Johnston & Brinamen, 2012). Therefore, ECMHC helps provide the right advice and skills to service providers in these areas, eventually leading to low problematic conduct in young children. It is necessary to review an ECMHC evaluation tool kit to understand ECMHC and what it entails.
As mentioned above, ECMHC equips service providers in this area with skills that help them deal with problematic behaviors in young children. A good example is consultation provided for preschool teachers, which aims to reduce the increased impulsion of preschool children (Mackrain, Perry, Pell, & Yates, 2011). It allows for a collaborative relationship between experts in this area and consultants. Through consultation, the skills of these service providers improve their ability to nurture young children's emotional and social development.
One of the most essential things in ECMHC is high-quality evaluation. One of its important factors or components is addressing each stakeholder's key issue. A high-quality evaluation also includes an appropriate strategy since this helps effectively evaluate specific areas, such as goals or program success (Hepburn et al., 2007). It must also have a clear program description for planning and ensuring that every stakeholder's voice is heard. A high-quality evaluation also contains measures and questions that help map the relationship between variables, assess critical areas, and determine their actual impact. The last component is a plan for data collection, where necessary and existing information and sources are determined.
An important step in ECMHC is outcome evaluation, which aims to evaluate whether the program has been successful or its goals have been achieved (Hepburn et al., 2007). In this case, appropriate tools and strategies are used to gather evidence of changes and outcomes and determine whether they relate to the interventions employed.
Ethical considerations are addressed when evaluating outcomes since effective interventions must be provided for all groups.
The program's theory of change is also determined as this allows researchers to refute or even support their assumptions based on program variables (Hepburn et al., 2007). After this, a logic model is developed, graphically mapping connections between actions and problems.
Data are quite important for program improvement. Counselors can use them to assess progress, make decisions, and allocate resources (Hepburn et al., 2007). Data can also be used in policy making and providing good feedback for system improvement.
As a consultant, the main training I may need to achieve competence in ECMCH is cultural sensitivity. This is because ECMCH requires a high level of cultural sensitivity (Hepburn et al., 2007). The reason is that stakeholders involved may be from different cultural backgrounds.
Most childhood practices are also under the influence of culture. Consultants in this area must understand some of these cultural aspects. Therefore, I must also receive the training for effective and successful consultation.
In conclusion, ECMHC helps provide the right advice and skills for early childhood mental health care service providers. A review of the EMCHC tool kit reveals some important things, such as outcome evaluation and components of high-quality evaluation. It also helps in identifying the training needed to perfect my EMCHC skills.
📎 References:
1. Hepburn, K. S., Kaufmann, R. K., Perry, D. F., Allen, M. D., Brennan, E. M., & Green, B. L. (2007, November). Early childhood mental health consultation: An evaluation tool kit. Retrieved from https://gucchd.georgetown.edu/products/ECMHCToolkit.pdf
2. Johnston, K., & Brinamen, C. F. (2012). The consultation relationship transactional to transformative: Hypothesizing about the nature of change. Infant Mental Health Journal, 33(3), 226-233. https://doi.org/10.1002/imhj.21332
3. Mackrain, M., Perry, D., Pell, K., & Yates, D. (2011, January). Early childhood mental health consultation (ECMHC) guide: Standards, rationale, and guidance for the State of Maryland.