Essay Examples
The Impacts of Ontario's New Health Care Act on Professional Practice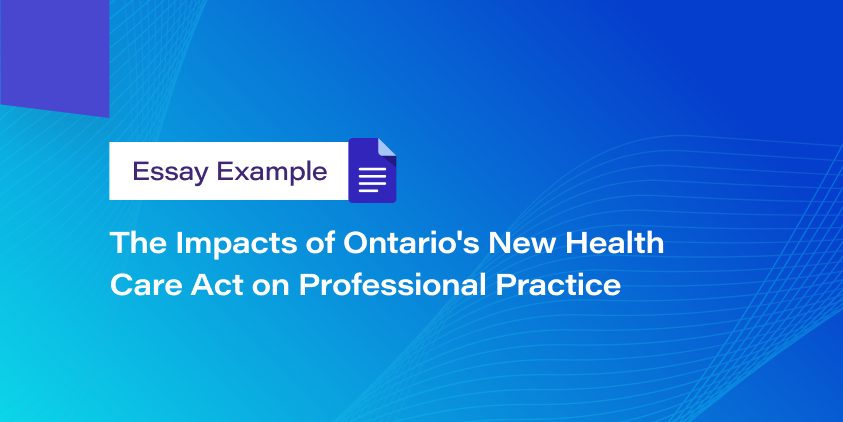 Health care service is considered one of the primary needs of a human being. It is not something you give, and everything would be okay. It is a process involving many persons with special abilities and effort. The specialists, whether physicians, nurse practitioners, dietitians, pharmacists, or midwives, are all responsible for their position. To meet all their task, every government provides some rules and regulations in the health care system. The Ontario government is similar regarding this issue. Recently, it has introduced the Regulated Health Professions Statute Law Amendment Act, 2009, which, if passed, would dramatically improve access to health care for Ontarians. In addition, it would also allow several professionals to give more services as well as improve patient safety.
Interestingly, on the issue of whether these rules would be implemented or not, the Ontario Health Association (OHA) and Ontario Medical Association (OMA) position is more complex than it should have been. There is controversy between these two sides regarding the following issues:
Expanding the service of regulated healthcare professionals
Improving patient security and strengthening the health care system
Health leadership and the controversy among service providers
An overall focus on improving the processes used in health care of medical errors should be quality improvement and enhancement of patient safety (Ashp, 2008).
Health Leadership and the Controversy Among Service Providers
Before discussing the positive and negative implications of Ontario's approach to re-aligning professional scopes of practices, it is better to address the scope of these two legislations. If the Ontario government expands the service of regulated healthcare professions, then the following benefits would be easier to achieve:
Enabling nurse practitioners, pharmacists, physiotherapists and others to provide more services than before.
Altering the regulations for administering, laying down, dispensing, compounding, selling and using drugs in practice for chiropodists and podiatrists, dental hygienists, dentists, midwives, nurse practitioners, pharmacists, physiotherapists and respiratory therapists (Shartel and Plant, 1959, p. 221).
Removing the restriction for nurse practitioners and physiotherapists on order for X-rays
Besides this, to improve the patient safety and health care system the following steps are to be taken:
Enhancing the development of common standards of knowledge
Emphasizing the teamwork
Regulations on liability insurance
Making a new process to ensure the safest use of the drug in a possible manner
Let's analyze the positive and negative implications of Ontario's approach to re-aligning professional scopes of practice. One of these positive sides is far from dangerous; the bill would improve access to quality healthcare services and apply the professional levels they were trained for. It will also allow the physicians to concentrate their time and ability on more complex issues. Though it is an assumption and not yet implemented, the idea of getting benefits from this perspective is expected.
The entire mechanism has survived the recent reorganization of the National Health Service more or less intact (Science Direct, 1975, p. 279). People are now getting more benefits, and the service providers are more accountable for their service.
"The government formed Local Health Integration Networks to foster better health system planning and integration. It expanded the network of family health teams and created the nurse-mentioned practitioner-led clinics and wait times strategy. It also implemented measures to increase hospitals' accountability for tax dollars spent and the quality and safety of the care they provide" (The Star, 2009).
Ontario's hospitals are working together by assisting the government to implement better changes and are now considered the most efficient hospitals in Canada. Because of the primary implementation of all those regulations, the hospitals now serve more people than ever. According to Tom Closson, President and CEO of the Ontario Hospital Association, "These efforts save the government of Ontario $1.6 billion per year, which it uses to invest in other priorities" (The Star, 2009).
Undoubtedly, the above objectives, shown by Tom Closson, are a positive sign for the health care service of Ontario's history. The question is not yet finished. The million-dollar question is whether there are negative sides and how all these efforts will be implemented without total cooperation from the Ontario Medical Association (OMA). There are a few points that should be addressed here, too. First, the concern from the OMA is significant because they are the ultimate service provider of a patient. Second, Doctors strongly advocate team care, and people are more interested in getting the treatment from the doctors. Dr. Suzanne Strasberg, the OMA president, has pointed out some issues to support his argument. Strasberg (2009) propounded that "[s]ince the 1990s, in partnership with government, the OMA has helped make Ontario the Canadian leader".
Just have to say that there is no doubt about this. Approximately 8.5 million Ontarians are getting health care services due to the cooperation between physicians and other teams. However, he has pointed out finger at the administrative problems rather than the patient problems. According to him, the budget provided by the hospital association is the main issue in this problem, and they are trying to cut the budget by supporting those acts. In addition, he addresses some information that can not be neglected. He has given statistics about health care services. For example, "Since 2004, more than 800,000 patients who didn't have a doctor now have one; 500,000 cataract procedures have been performed; and 110,000 hips and knees have been replaced (Strasberg, 2009).
It is better to expect every individual and organization involved in the health care service to play a major leadership role in making the system more safe and reliable. Many physicians already favor these rules and regulations to provide their best effort for better objectives. All these physicians are now embracing interdisciplinary care models and breaking down barriers to care.
However, on this issue, almost every interested and relevant organization favors supporting their position. Katrina Kilroy, president of the Association of Ontario Midwives, has supported and welcomed the steps the government is initiating by saying, "We're pleased that the government has proposed these changes. This is the first review in 15 years of regulated midwifery in Ontario" (MOHLTC, 2009). Besides this, the Ontario Pharmacy Association's chief executive officer, Dennis Darby, said, "This legislation would bring Ontario another step closer to using pharmacists to the best of their abilities (MOHLTC, 2009). In addition, the Ontario Association of Medical Radiation Technologists, the College of Physicians and Surgeons of Ontario, the College of Physicians and Surgeons of Ontario, and the College of Nurses of Ontario, all these organizations along with the Ontario Hospital Association, support the government's position.
So, from all that information, the proposed changes will enable nurses, dietitians, pharmacists, and physiotherapists to access patients easily and enhance patient safety in the increasingly complex healthcare system.
Conclusion
This is an argument where both sides have raised serious issues regarding the health care service and its management. But the most important thing should be the patient and ensuring their health care service. This is different from what you said, and it will be done. Primary Health Care One of the primary goals in health care is consistent health care providers who provide all facilities (Lundy and Janes, 2003, p. 494). Visitor Service Social interaction and social contacts are important for every human being, regardless of age (McKenzie, Pinger, and Kotecki, 2005, p. 258). Underlying all these various efforts is the need for strong public health leadership for policy and practice and a global response to health inequalities (Wallace, 2003, p. 43). Health Leadership explores the basic theories and principles of leadership and then describes how they may be applied in the public health setting. Leadership skills, competencies, and methods for measuring and evaluating are all thoroughly covered (Catechism series, 1944). Administration programs are available in health leadership, nursing, and health care administration (p. 52). Certainly, in this case, the government and all the interested organization should overcome their problems by the general rules and regulations, not by blaming each other. Otherwise, it may lead to an unbalanced and ineffective leadership healthcare situation, which each organization and every person does not expect. Public health leadership needed to engage the grassroots leadership in health – and the health care system more generally — has never fully been adopted.
📎 References:
1. Ashp, (2008). Best Practices for Hospital & Health-System Pharmacy 2008-2009: Positions & Guidance Documents of ASHP. ASHP, 2008.
2. Catechism series, (1944). Public health. Jones & Bartlett Publishers, 1944.
3. Lundy, Saucier Karen. And Janes, Sharyn. (2003). Essentials of community-based nursing. Jones & Bartlett Publishers, 2003
4. McKenzie, F. James. Pinger, R. R. and Kotecki, Edward Jerome. (2005). An introduction to community health. 5th ed., Jones & Bartlett Publishers, 2005.
5. MOHLTC (2009). Improving Patient Care in Ontario What Experts are Saying About Proposed Changes to How Ontario's Health Professionals Provide Services, May 11, 2009. MOHLTC Ministry of Health & Long-term Care, Ontario.
6. Science Direct, (1975). Social science & medicine, Vol. 9. Pergamon Press., 1975
7. Shartel, Burke. and Plant L. Marcus. (1959). The law of medical practice. Thomas, 1959
8. Strasberg, Suzanne. (2009). The Doctors Respond to Hospitals' Criticism; Doctors Say They Want to Do What's Best to Ensure Patients Get the Highest Quality Care. Letter to the Editor, the Toronto Star, October 08, 2009
9. The Star.com (2009). Ontario Medical Association is aiming at the wrong target. October 06, 2009
10. Wallace, M. Helen. (2003). Health and welfare for families in the 21st century. 2nd ed., Jones & Bartlett Publishers, 2003