Nursing Insights & Resources
The Best Medical Schools for Nursing Students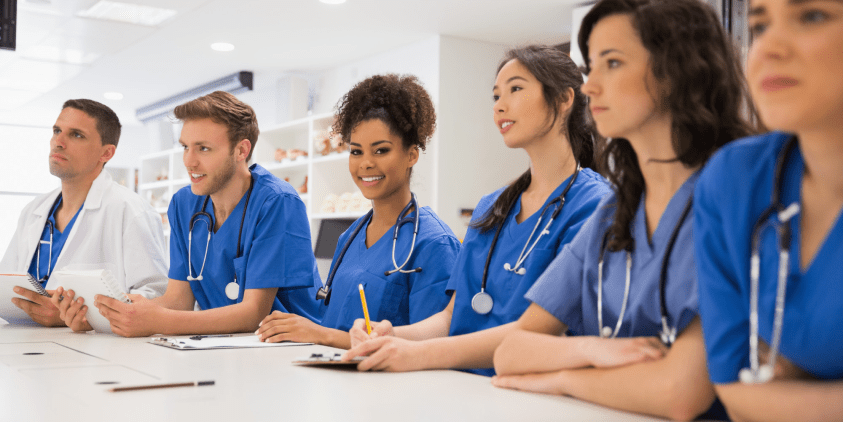 When you have chosen nursing as your career path, you have to be aware of all the specific nuances of this job. First of all, you ought to select an appropriate and suitable educational program. In fact, this decision is very important as it is an investment in your future. You will be spending your money and time. Thus, the chosen program ought to provide you with great career opportunities. Also, it has to equip you with the expertise and skills necessary for pursuing your career goals.
It is impossible to imagine the work of the physician`s office without professional medical assistants. The right education and appropriate medical program can prepare the student for performing job duties and responsibilities. Most training programs take 1-2 years; though, some of them are shorter. They are usually offered in community colleges, vocational schools, as well as technical universities. Read our handy guide and you will learn more about the most prestigious and reputed medical schools.
How to Select a Perfect Medical Assistant School?
Before you choose the educational affiliation to apply for, you need to carry out preliminary research. It will help you figure out what options are available. When studying the information about the facilities, you need to pay attention to the time you will need to spend before you become a qualified medical assistant. Also, you need to check whether any financial aid options are available to you. To understand if a particular educational program is worth your attention, you may answer the following questions:
How long may it take you to complete the chosen training program?
Is the program accredited? (Without accreditation, you won`t be able to get federal student loans);
How much do you have to pay to attend a medical school?
What degree of medical assisting program is provided?
Does the school accept any college credits earned by you in another educational institution?
Is there any career placement program in the school? If yes, what is the percentage of employment?
Does the school provide hands-on training?
Are the classes provided on a part-time or full-time basis?
The clear answers to these questions will help you choose the best options for obtaining a medical assistant degree. Additional research, as well as other key factors you should consider when selecting a good nursing school, can help you understand what to expect when making your decision. If you want to learn more about the most popular programs among students, you may find them in the list provided below.
Popular Medical Schools
Purdue Global University
This university provides high-quality education that will meet the exclusive needs of non-traditional learning. This program offers various certificates in the healthcare field. The medical assistant certificate assumes a multi-dimensional curriculum. It involves in-depth training in medical equipment. Those students, who get an education at Purdue Global University, get appropriate expertise in various subjects. In particular, they study medical terminology, insurance and coding, office management, law, etc. What is more, the faculty requires the completion of an internship in a physician`s office. If you are an online learner, you can complete the required clinical experiences in your community.
Pima Medical Institute
If you are looking for an accredited certificate program in medical assistance, then PMI is the best option for you. This program is rather short and takes only nine months. By joining the program, you will get an opportunity to assist medical practitioners in patient care. Also, you will be performing office tasks, sterilizing medical instruments, etc. The program also includes hands-on training, as well as financial support for some students.
Keiser University
This educational institution provides an Associate of Science Degree in Medical Assisting at 15 locations. You will need about two years to complete this program. After becoming a student, you will get new competencies in a hands-on environment under the careful supervision of a qualified physician. To get appropriate competencies, you will need to prepare for exams, complete lab reports, take online tests, etc. The successful completion of the program will help you get prepared for the job in the medical assisting field.
Bryant & Stratton College
This college provides an associate of applied science (AAS) degree in medical assisting. The program that takes two years will make you prepared for clinical and medical work. Before completing the program, you will be able to complete the internship. The college is accredited. Thus, it provides students with appropriate certification and career advancement.
Ross College
This educational institution provides hands-on medical training at more than 40 locations. Whereas evening students complete the program in approximately 36 weeks, day students need only 30 weeks to take it. The training program includes two modules, as well as a six-week externship. This program will enable you to extend your knowledge of physiology, medical terminology, anatomy, first aid, etc. Also, you will study the essentials of charting, filing, computer skills, insurance billing, and other aspects.
After the successful completion of the chosen program, you will want to get involved in patient care. By pursuing education beyond the program selected, you will make your path toward a successful career more enjoyable. In other words, your efforts will be rewarded by a prestigious and well-paid job. Provided below are the organizations that offer extended career opportunities for medical assistants.
The Colorado Society of Medical Assistants
It is a professional organization that provides accurate information to dedicated assistants. The organization has a lot of members. They include doctors' receptionists, insurance coders, assistants, educators, and physicians.
Arizona Society of Medical Assistants
This organization provides healthcare professionals with an opportunity to join the prestigious program. By doing this, you will attend meetings and sessions. They will enable you to exchange your ideas with other assistants, as well as learn about current trends and tendencies in the medical field. You will be able to apply the skills and knowledge obtained during the conferences in your workplace.
American Medical Technologists
After joining this community, you will be able to reach certificate programs. Also, you will attend annual meetings, as well as learn more about your local state medical community.
The Ultimate List of Medical Schools for Prospective Nursing Students
📎 Related Articles
1. The 10 Best Medical Assistant Schools
2. 5 Best Medical Assistant Schools
3. Best Medical Assistant Schools + Career Information
4. TOP ONLINE MEDICAL ASSISTANT SCHOOLS
5. Useful Resources for Medical Assisting Students & Professionals