Essay Examples
Pediatric Nursing: Caring for Children and Fostering a Healthy Future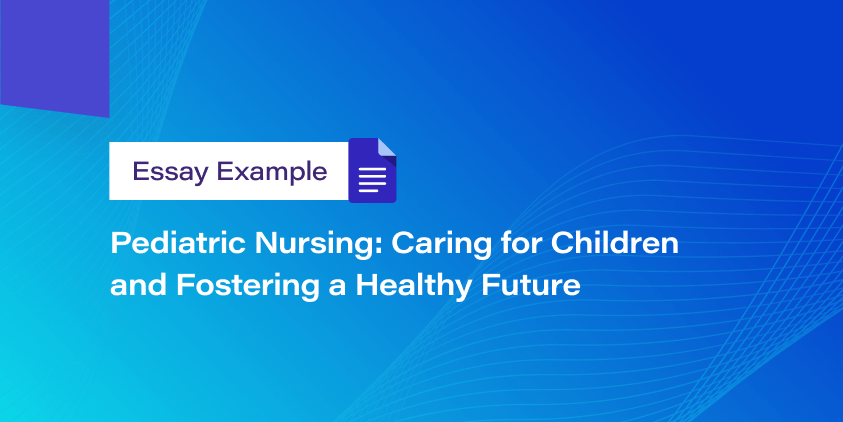 A child is not simply a small person. Kids are treasures of each family. Their physiology and anatomy greatly differ from adults, though it changes as a child grows up. It may seem too difficult, but besides crying, grimacing, and whims, their innocence should be valued. Despite all problems, the child's wonderful smiling face and looking at you can make you smile too. Taking care of children requires the art of being patient and kind. Of course, it is supposed to have boundless love for children from the nurse's side.
The demand for medical care and nursing for pediatrics is so high that doctors and nurses have to design effective programs for medical staff which will satisfy all segments of the population. They need qualitative training to perform the required duties to achieve this purpose. There are some main pediatric nurse functions. First is medical education: they are responsible for children's health and physical condition. As a health promoter who takes measures to prevent illness, a nurse has to advise parents on proper care, meals, etc. It is the nurse's main duty to guarantee normal growth and development. A nurse, as a researcher, observes patients and comes to conclusions about how to do their best to treat them. A nurse, as a family advocate, is supposed to be reasonable in own statements about the needs of the patients. Coordination with pediatricians is very important because the children's state may change fast, and nurses must document and control vital signs.
The population of the U.S. increases faster than medical personnel. People need medical services to maintain health at a high level in urban and rural areas with insufficient medical care. The pediatric nurse practitioner program was created under the protection of the School of Medicine and the School of Nursing of the University of Colorado. The project is held in two phases. The first phase was performed at the University of Colorado Medical Center in Denver. Each nurse has four months of practice and theory with senior faculty members of the medicine and nursing schools. The next step of the nurses' educational program includes applying the recently gained skills and knowledge in areas with many residents of low social status who need appropriate and qualitative treatment.
Thus, such a program provides expanding health care for children with limited opportunities. They are assigned to the child clinics, clinics for premature babies, and nurseries for newborns, where they work with the director and other staff. Nurses are taught to evaluate difficulties with sight and, hearing, speech defects, provide dental care and define dental problems. At the seminars, they also learn about breastfeeding and proper nutrition, such as vitamins, solid food, etc. The nurse practitioner trainees actively participate in clinics and the emergency room with healthy children and children with plenty of acute or chronic diseases. To improve the quality of care, they interview families, do the necessary examinations, and discuss patient care. They cooperate with qualified pediatric faculty members to manage and evaluate kids with numerous disorders. Here are some diarrhea, skin eruptions, allergic disorders, common constipation, and allergies. The trainees assist in managing emergency cases such as hemorrhage, apnea, accidents, and several poisonings.
National Pediatrics Support Services coordinate two childcare services with a common site called Rainbow Retreat for sick children. They provide a 20 percent subsidy for clients of child care centers or Rainbow Retreat in California and New Beach Pasadena. This system offers a full-service childcare program for relatives. Talking about work, most women have full-time jobs and lack time to look after their babies. Therefore, they need help in terms of how to combine these activities. Thus, the Women's Bureau was designed for people interested in developing effective and useful actions for childcare programs. It is the only Federal agency that resolves women's employment problems and advocates for their interests. It has a 70-year history of participation in childcare issues.
Department of Child Health Advocacy and Outreach aims to keep children healthy, safe, and happy to make strong social units in St. Louis. The company's staff exceeds includes more than 50 workers. Programs are aimed at health development, providing the community with health services, and wound prevention through Healthy Kids Express mobile health projects. The program "Healthy Kids Express" helps prevent asthma and preventable dental screening services. Healthy Kids Express examines about twenty thousand kids annually (St. Louis Children's Hospital, Child health advocacy and outreach, n.d). The Asthma program focuses on an audience of all ages, but basically, on ages from 4 to 12 ages. The Dental program is aimed at ages 3 – 18. The screening programs include vision, hearing, and checking for anemia. This department has a team of specialists: nurse practitioners, social workers, asthma coaches, registered nurses, a dentist with an assistant, and others.
Pediatricians have an important influence in helping their patients. Finally, they should set a good example of hygiene to prevent infections and other diseases. They should be sensitive to fragile systems of a kid's body or, in other words, have "a clinic eye." They must pay much attention to children and be understanding and kind to grow up a healthy generation.
📎 References
1. A Day in a Life of a Pediatric Nurse
2. A Program to Increase Health Care for Children: the Pediatric Nurse Practitioner Program
3. Employers and Child Care: Benefiting Work and Family
4. St. Louis Children's Hospital. Child Health Advocacy and Outreach