Essay Examples
Importance of Literature Review in Evidence-Based Research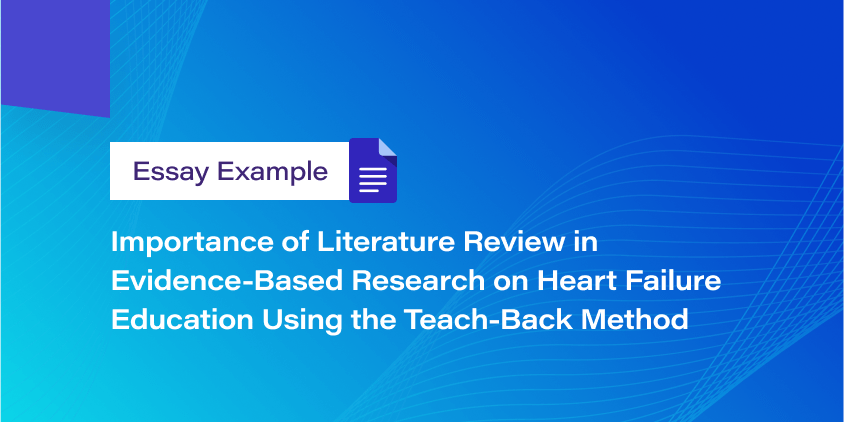 When conducting research, a literature review is one of the steps used in the systematic search and evaluation of information on a particular topic. A systematic search for information helps to ensure that only relevant material is used to gather information on the topic, thus making the study evidence-based. Therefore, a literature review on heart failure education using the teach-back method ensures that the information gathered is evidence-based and vital to nursing. Consequently, understanding the main objectives of the literature review has also been a guiding tool to help the researcher define what information to search for and evaluate.
Objectives of the Literature Review
Before beginning research, it is important to understand what information is required on a particular topic. A literature review has some objectives that one needs to focus on in order to provide factual and evidence-based information. A literature review aims to fill in the gaps in the previous research. By doing a topic evaluation, a researcher can detect areas that have been overlooked and work to cover these gaps by conducting a study. A literature review is important for expanding background information on the study topic. Before writing a literature review, a researcher has some background information that only gives them a general idea of the topic. A literature review is conducted to expand the existing evidence to obtain clear, systematic, and detailed information on the topic of study.
Furthermore, a literature review aims to pinpoint the flaws of the previous research. By pinpointing the flaws of previous research and depicting how the literature review will address the questions arising from the evaluation of the data gathered, it becomes easy to demonstrate the relevance of that particular research topic. However, a research topic loses its scientific and systematic analysis if the literature review is not conducted appropriately.
Evidence-Based Method
Heart failure education using the teach-back method will be my choice for the DNP project practicum. Since the teach-back method is a type of clinical trial intervention, it will be wise to select the best evidence-based level to ensure quality in my project practicum. Thus, using the level 1 evidence-based method will enable gathering evidence from a systematic point of review of randomized controlled trials (RCTs) that are relevant to heart failure education through the teach-back method. Consequently, level 1 uses clinical practice guidelines that follow the systematic review of RCTs. Another reason to apply the level 1 evidence-based research method is that systematic reviews and RCTs have been considered the best research method.
Moreover, level 1 is preferred because systematic reviews and RCTs are the best methods for evaluating the benefits of a treatment or intervention. The potential outcome of the intervention can be attributed to that particular intervention or treatment. Hence, using the level 1 method will make it easy to determine if there are any effects arising from the teach-back method used to give education on heart failure.
Types of Possible Literature Used for Support
Prior to writing a literature review, a few considerations should be made. First, all the material used for the literature review must be systematic to give facts and critically evaluate relevant research. Systematic review materials are the type of literature that will support the subject, topic, key terms, and inclusion and exclusion criteria for this study. Regarding the subject, searching literature associated with the nursing discipline will be the first step in narrowing my research for the literature review. After determining the subject, finding informative materials on health education, heart failure, and the teach-back method will be important. The key terms to be focused on are heart failure, cardiovascular diseases, heart disease, health education, and the teach-back method. The inclusion criteria will consist of individuals above 18 diagnosed with heart failure and other cardiovascular diseases. Individuals considered to have one of the following characteristics, such as cognitive impairment or a co-existing chronic disease, and those already enrolled in an education study will be excluded.
Conclusion
In conclusion, a literature review is an important part of the research, which gives it direction and purpose. Without a proper literature review, systematic search, and evaluation, it is almost certain that the research topic on heart failure education using the teach-back method will not be evidence-based. Carrying out evidence-based research is beneficial in nursing, giving factual information on pertinent issues. Before understanding the basis of the systematic review and evaluation of literature, grasping the literature review's main objectives will help develop a professional work. Understanding the above-discussed objectives spearheads the importance of developing an evidence-based literature review. Familiarization with the levels of evidence-based methods is also beneficial as it allows the researcher to select the best level of methods for conducting a study.
References
1. Bernard, H. R. (2017). Research methods in anthropology: Qualitative and quantitative approaches (6th ed.). Oxford, UK: Rowman & Littlefield.
2. Booth, A., Papaioannou, D., & Sutton, A. (2016). Systematic approaches to a successful literature review (2nd ed.). London, UK: Sage.
3. Machi, L. A., & McEvoy, B. T. (2016). The literature review: Six steps to success (3rd ed.). Thousand Oaks, CA: Corwin.
4. McCusker, K., & Gunaydin, S. (2015). Research using qualitative, quantitative or mixed methods and choice based on the research. Perfusion, 30(7), 537-542.
5. Yegidis, B. L., Weinbach, R. W., & Myers, L. L. (2017). Research methods for social workers (8th ed.). London, UK: Pearson.