Essay Examples
Combating Workplace Violence in Nursing: The Impact of Policies, Legislation, and Organizational Culture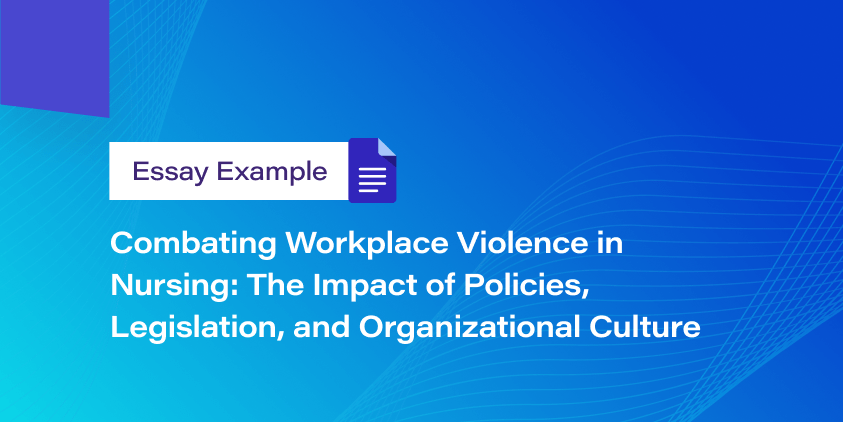 Workplace violence has been a serious occupational hazard for many decades that endangered healthcare staff during their professional activities. The nursing personnel, and emergency staff, in particular, remain the vulnerable category of workers experiencing violence in the workplace. The state of affairs in this field is risky, so it requires urgent measures as a response. Enacted by the authorities, various healthcare policies, legislations, and legal issues greatly contribute to decreasing rates of violence in the nursing workplace. Regulatory environments, controls of healthcare delivery, and the support made by leading healthcare institutions have a serious beneficial effect in preventing workplace violence that the nursing staff sometimes experiences.
Healthcare policies and legislation significantly affect healthcare delivery and patient outcomes. Organizational arrangements are the background of a healthcare institution's and its personnel's activities. During the past decade, the authorities have introduced numerous laws that facilitated healthcare delivery and positively affected patients. Specifically, Medicare, Medicaid, and the Affordable Care Act aimed to support patients. Nevertheless, while helping individuals needing medical assistance, the legislation paid little attention to the nursing personnel who often experienced violence in the workplace. The term' workplace violence' denotes any case or threat of physical violence and harassment as well as intimidation or other dangerous insulting conduct in the work environment (Occupational Safety and Health Administration, n.d.). This category of wrongdoing includes a range of overt and covert conduct. Based on its degree, workplace violence may vary from verbal harassment to even murder.
The authorities create an effective legislative base to decrease the high rates of violence in the nursing workplace. According to statistical reports, the number of individuals who work in the healthcare field is approximate "four times more likely to be injured and require time away from work as a result of workplace violence (WPV) than all workers in the private sector combined". The authorities have initiated legislation that prosecutes wrongdoers to cope with this negative phenomenon. For example, in 2013, in Texas, House Bill 705 was voted into law that declared an assault against ED personnel a third-degree felony. This legislative act produced a beneficial effect by supporting healthcare workers. However, establishing, developing, and changing the culture within healthcare institutions depends on their administration's policies.
Personnel education plays an important role in solving the high rates of violence in the nursing workplace. According to the Joint Commission, a healthcare organization's leadership is responsible for ensuring a culture free of violence in their departments. As an effective measure, cultural changes will be provided at healthcare institutions' executive and organizational levels. Personnel training is to be directed to avoid violence in the workplace or stop it properly.
The authorities must remove several key factors to make workplace violence prevention programs effective. First, activities, which are suggested by such programs, are not introduced into practice, thus remaining useless. Second, workplace violence exists in various forms, and individuals demonstrate different attitudes to this felony. Third, bullying is a typical and extremely painful form of workplace violence. Fourth, profit-driven management models do not contribute to escaping violence in the workplace. Finally, poor management accountability and weak social service and law enforcement methods of dealing with mentally ill individuals create obstacles to producing a positive effect. All these factors must be decreased to receive a positive effect in the field.
The community realizes the strong necessity of protecting the medical staff against violence in the workplace. The Occupational Safety and Health Administration (OSHA) draws public attention to the fact that approximately 2 million US citizens suffer from workplace violence annually. OSHA gas-guided activities to prevent such violence to decrease this negative phenomenon. The main components of this guidance include legislative advocacy, workplace policy, and education. In the spring of 2014, the American Nurses Association expressed strong concern about incivility, bullying, and violence in the workplace. The 441 advisory committee members analyzed the key challenges in the field and created guidance for establishing a healthy environment free of workplace violence. Useful recommendations of the ANA contribute to establishing effective safety policies and provide protocols for preventing and responding to this issue in the healthcare field.
The safety policy insists on adopting goodwill and communicating respectfully. The personnel is advised to participate actively in meetings and discussions while considering the opinion of minorities. In strong disagreement with the state of affairs, opponents are advised to suggest solutions to the challenge. Such a respectful attitude towards each other would help establish a positive environmental culture and decent communication traditions and avoid many violent forms such as harassment, intimidation, manipulation, and threats.
To sum up, healthcare policies have focused on supporting patients as the most vulnerable category for decades. Despite the fair intentions of this step, the authorities have paid little attention to the nursing personnel who often experience workplace violence of various degrees. To solve this challenge, a range of legislative acts were adopted. The measures for decreasing violence include several competencies, such as legislative advocacy, workplace policy, and nursing training. The measures mentioned above contribute to improving the situation in the healthcare sector.
📎 References
1. Blando, J., Ridenour, M., Hartley, D., & Casteel, C. (2015). Barriers to effective implementation of programs for the prevention of workplace violence in hospitals. Online Journal of Issues in Nursing, 20(1), 1–11.
2. Doby, V. (2015). Leadership's role in eliminating workplace violence and changing perceptions in the emergency department. Journal of Emergency Nursing, 41(1), 7. https://doi.org/10.1016/j.jen.2014.08.013
3. Magnavita, N. (2014). Workplace violence and occupational stress in healthcare workers: A chicken-and-egg situation-results of a 6-year follow-up study. Journal of Nursing Scholarship, 46(5), 366–376. https://doi.org/10.1111/jnu.12088
4. Occupational Safety and Health Administration. (n.d.). Workplace violence. Retrieved from https://www.osha.gov/SLTC/workplaceviolence/
5. Papa, A., & Venella, J. (2013). Workplace violence in healthcare: Strategies for advocacy. Online Journal of Issues in Nursing, 18(1), Manuscript 5.
6. Saltzberg, C. W., & Clark, C. M. (2015). A Bold Call to Action: Mobilizing Nurses and Employers to Prevent and Address Incivility, Bullying, and Workplace Violence. American Nurse Today, 10(8).