Essay Examples
Advanced Practice Nurses and their Role in the Dynamic Healthcare Environment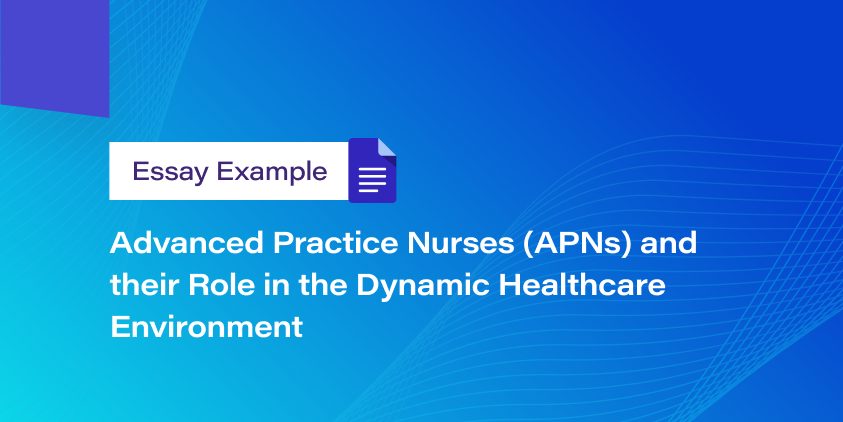 Healthcare in the United States faces many challenges, including a shortage of professionals, rising costs, an aging population, access to care, and the demand for advanced techniques and technology. Advanced Practice Nurses (APNs) have the skills to respond to the dynamic healthcare environment. The reason is that APNs have a key role in meeting the patient's holistic needs by building knowledge and contributing to a sustainable and effective healthcare system. Despite a collective objective, advanced nursing practice varies from state to state. Even though APNs are specialists in their respective fields with roles that extend beyond applying clinical competencies, they are also leaders in their organizations and communities.
Advanced Practice Roles in Nursing
Advanced practitioners are professionals with graduate-level education, training and clinical experience that help them meet the complex needs of patients and ensure efficiency in the healthcare system. The minimum degree requirement for becoming an APN is a postgraduate diploma in nursing. The degree is a Master of Science in Nursing that leads to various specializations, such as advanced family practitioner, gerontology nurse practitioner and acute nurse practitioner, among others.
APNs focus on clinical outcomes by providing direct and indirect patient care through supportive and consultative roles. For example, APNs play an essential role in establishing clinical guidelines and using evidence-based approaches to provide expert support in facilitating the development of the healthcare information system. For example, APNs in primary care settings demonstrate independence in the diagnosis and integration of diagnostic tests, prescription of medicines, as well as specific procedures within their legislative scope.
As stated, APNs are advanced practitioners who specialize in delivering care to a given population domain. Practitioners have advanced training in their respective fields of specialization that allows them to focus on clinical roles. The role differs from advanced nursing practice, which is a level of practice rather than a specialty. The role is common among registered nurse professionals, who operate in advanced roles other than traditional nursing roles. However, the scope of ANPs depends on the scope of practice for a nurse at the point of registration. The reason is that the scope of practice for nurses is dynamic and has changed over the years.
Advanced Nursing Practitioners require advanced training in the clinical setting or academics. The reason is that for them to operate beyond the traditional scope of nursing, the practitioners must demonstrate the experience that can allow them to work with minimal or no supervision when diagnosing, interpreting and prescribing medicines, as well as performing complex procedures in various clinical settings. As a result, APNs are a part of the role encompassing advanced nurse practice.
I aspire to be a Family Nurse Practitioner – a role that provides advanced care throughout the lifespan and across all genders. The role is important in the healthcare system, particularly in primary care settings. As an FNP, I strive to engage patients in their care, helping them understand their health conditions and offer practical measures for improving their well-being. My competencies in leadership, critical thinking, and interpersonal skills will help me to provide effective care delivered with a high degree of autonomy.
I will demonstrate leadership by initiating change to improve client, organizational and system outcomes. Critical thinking skills will help me understand and synthesize nursing knowledge in research and clinical expertise to meet the needs of the patients. Furthermore, my critical thinking and interpersonal skills will help me integrate knowledge from other disciplines and work with other health professionals to improve patient care. As a result, the skills will help me work professionally and ethically in delivering care and addressing non-clinical matters in different healthcare settings.
AP Interview
The AP I interviewed lives in Hialeah, Florida and works at the Community Health Group. The organization operates different medical centers certified as level-three patient-centered medical homes. The interviewee's name is Jorge, an FNP who works in primary care. As an FNP, Jorge is qualified to manage a range of health conditions and diagnose and offer prescriptions for mild health complications for both genders.
I also intend to work as an FNP in Florida, and since it is a requirement, I must be knowledgeable in the state regulation for practice. To qualify as an advanced practitioner, he/she must be a registered nurse practitioner in the state, although both can be applied simultaneously. Applicants must have completed a master's or post-master degree certification. Furthermore, applicants must have a national advanced practice certification to be eligible for the state license. A fundamental requirement for all nursing practitioners is to be persons of integrity. As a result, the state requires that practicing nurses and applicants not be convicted of any felony or crime within the state or at the federal level. Additionally, practitioners should not be convicted of abusing controlled substances.
FNPs must also be a part of a professional organization that guides their code of conduct and professionalism. At the state level, there are several available professional organizations for FNPs, including the Florida Association of Nurse Practitioners, formerly Florida Council of Advanced Practice Nurses, Florida Nurses Association, Florida Coalition of Advanced Practice Nursing or the American Association of Nurse Practitioners at the national level.
The Florida Association of Nurse Practitioners, formerly Florida Council, is a major professional organization in Florida; the organization advocates for removing legislative barriers that prevent APs from delivering quality care and practicing within their scope of training. The organization seeks to pursue interests that benefit the public in accessing affordable and quality care within the state. The American Association of Nurse Practitioners seeks to empower nurse practitioners in the country to advance healthcare quality through education, practices, research, and advocacy.
Other than joining professional organizations, FNPs must demonstrate certain competencies that will help them acquire certification to practice. Competencies are specific skills, knowledge, judgment and personal attributes required for FNPs to practice safely and ethically. FNPs are advanced practitioners who use clinical experience and research to develop progressive assessment and interventional strategies to impact the well-being of patients.
FNPs advocate for individuals, families, and communities by providing treatment and promoting policy decisions that influence the quality of life. As a result, they have excellent interpersonal skills that allow them to collaborate and communicate effectively with clients and other health practitioners. FNPs must understand the limitations of their competence and be able to collaborate with other medical professionals when they face challenges beyond their scope of operation. As a result, there is a need for ANPs to develop a professional network that helps them address emerging policy issues and clinical matters within their field of competence.
As an FNP, I plan to work in a primary care facility in Hialeah, Florida. The reasons are that it is close to where I live and I am very familiar with the State regulations. I also aim to work at a primary care facility because of its significance in the healthcare system. Primary care settings provide the first contact and continued care for persons with undiagnosed health concerns. It allows me to participate in health promotion, disease prevention, health maintenance and patient education, diagnosis, and treatment of acute health conditions.
Physicians perform and manage care in collaboration with other health professionals at the primary care facility. However, with the increased role of APNs, I will also be responsible for providing direct care to patients of all ages, both men and women. As a result, I will work with expectant mothers and their newborns throughout their lifespans. I will also work with their spouses and other male patients, either by providing direct care or health education for them to be able to provide psychological support to expectant mothers.
Leadership Attributes of the Advanced Practice Role
My leadership attributes involve encouraging others to contribute to the decision-making process. Open communication allows staff members to contribute through their diverse backgrounds. Nonetheless, staff members feel important because they are involved in the organization's decision-making process. Furthermore, my leadership style fosters positive feedback and criticisms, which allow staff members to adjust, while focusing on improving the quality of care. The leadership style is similar to the transformational one, ideal for nurse professionals.
The transformational leadership style focuses on leading by example. The leader must be skillful, genuine and charismatic when performing his/her tasks. Leaders must perform exceptionally for others to emulate their actions and professionalism. I can adjust my leadership attributes to incorporate positive aspects of the transformative leadership style. For example, when brainstorming with colleagues for the best alternative, and I can perform such a task exceptionally, I should offer my contribution, undertake the task, and inspire others.
Advanced practitioners are agents of change who seek new ways to practice and improve care delivery and shape the organizational culture. Therefore, I will demonstrate my leadership qualities by advocating for individual, family and community well-being with treatment and the healthcare system that affects the quality of life when executing my role as an advanced practitioner. Furthermore, I will mentor nurse colleagues to ensure we work as a team. I will advocate for a positive organizational culture supporting quality patient outcomes.
FNP/AGNP
Bryant‐Lukosius et al. demonstrates that clinical outcomes and patient satisfaction levels for NPs are similar to MDs. However, Maier argues that NP care is cheaper because MDs have more years of education and that the extra cost means better care. However, more years of education does not necessarily equate to better care. The reason is that they have a primary role in offering preventive and intentional strategies that aim at educating the patient and communities in promoting their well-being. Additionally, they help manage and address patients' psychological needs to ensure that they achieve holistic care. As a result, I believe NPs should be compensated better for the extra work and hours they engage with patients.
Bryant‐Lukosius et al. report that NPs provide quality care while utilizing the available resources. As a result, they ensure that health facilities and the healthcare system are cost-effective in the long run. Therefore, compensating them lower than MDs may demotivate their efforts in providing care and utilizing healthcare resources effectively. As a result, compensation should be performance-based to ensure that health practitioners receive remuneration on their value to the organization.
A major issue facing nurses nationwide is their ability to work to the extent of their training and education. Some states, such as Arizona, Colorado, Connecticut, Iowa, Maryland, and Minnesota, allow all nurse practitioners to evaluate persons receiving medical treatment, and order, diagnose, and interpret medical tests. Nurses can also properly manage and initiate treatment as well as prescribe medication under the licensure of the State Board of Nursing. States that offer a reduced practice requiring physicians to supervise and delegate duties to NPs for them to provide care include Alabama, Arkansas, Illinois, Indiana, Kansas, Kentucky, Massachusetts, Michigan, Mississippi, and Louisiana. States that offer restrictive practices include California, Florida, Georgia, North Carolina, Missouri, South Carolina, Texas, Oklahoma, Tennessee, and Virginia. The restrictions, which also apply to the State of Florida, where I intend to practice, require supervision by a physician or surgeon for NP to provide direct care to patients.
Nurse Executive
Value-based care is a healthcare delivery model that focuses on improving quality and outcomes for patients by reimbursing providers for their efficiency and effectiveness. The goal of the value-based model is to standardize the delivery of care through the best practices. As a result, the value-based model aims to measure health outcomes against the cost of delivery. The value-based model allows organizations, as well as the healthcare systems, to be cost-effective and achieve efficiency and greater patient satisfaction. It offers an alternative to traditional methods of compensation that base their reimbursement on the number of performed services. Such models can incentivize the providers to order additional tests and procedures and extend the period for managing a condition to be paid more. Therefore, value-based care will help patients to recover quickly from illnesses and injuries and to avoid chronic conditions.
Nurse Informatics
The Health Insurance Portability and Accountability Act of 1996 is an important law ensuring that patient information is protected, particularly when sharing with health providers to provide and promote quality care. The laws are important because they define the limit and circumstances under which a covered entity can disclose personal information. As a result, covered entities cannot engage in unethical behaviors, such as selling patients' information to insurance providers and health providers for economic gains. For example, the law requires that a covered entity only share such information with written consent from the patient or personal representative.
Nurse Educator
The National Council of State Boards of Nursing aims to establish the quality and standard of nursing education. It assists Nursing schools in setting the policies and developing curricula, as well as influencing nurse professionals to improve the quality of care through research, practice and continuous learning. The board is a jurisdictional governmental agency in 50 states responsible for regulating the nursing profession. The board oversees program approval, which is essential for the licensure of nursing professionals and learning institutions. The board also defines the recognition of a nursing education program and a policy framework for adopting programs through various modes of study delivery. Furthermore, the board regulates the conduct of various professional bodies by giving states the responsibility to protect the public by developing laws that promote the interest of the nursing profession and public health.
Trends and Policy Issues
A recent development that affects aspiring Advanced Nurse Practitioners in all specialties is the emergence of the Doctor of Nursing Practice. Traditionally, ANPs must earn a Master of Science in nursing to qualify for national and state licensure in their specialization. However, there are policy debates on raising the entry-level to doctorate and making it the standard for licensure and certification. Raising the entry-level will positively impact the nursing profession as long as the nurses have autonomy in their fields of specialization. The reason is that nurses may not gain the interest or motivation to advance their skills if they cannot perform independently. Even with this, the requirement might be an entry barrier for aspiring nurses who may opt for other professions, leading to a shortage of certified nurses.
For the policy to be effective, policymakers must engage all stakeholders, including practicing and aspiring nurses. Most importantly, the policy should involve educators responsible for offering the course. The curriculum should demonstrate the benefits that the graduates will add to the healthcare system and patient outcomes. The reason is that the programs should be consistent with qualifications for other medical professions that might bring conflict when delivering care. For example, the scope of operation for DNPs should be consistent with the role of the physicians since this might lead to a professional conflict when delivering care. The government, both at the state and the national level, should develop policies that recognize the new discipline and enact the relevant laws to ensure the independence of the professionals.
If I could lead the effort to influence the policy change, I would start by outlining the program's benefits to the patients and, most importantly, the nurse practitioners because they are the key stakeholders in the policy decision. Secondly, I would engage the key professional bodies and regulatory agencies to establish the role of DNPs and the healthcare setting where the qualifications are applicable. The role must be distinct for other professional bodies and practitioners not to oppose the policy implementation. Furthermore, I would not advocate raising the entry level for licensure and certification. However, I suggest a new certification that recognizes DNPs. The reason is that raising the entry level will mean revoking licensure and certification for Aps, which may undermine their scope of operation.
Conclusion
FNPs are trained to perform comprehensive health assessments, diagnose and manage acute conditions and serve as the primary healthcare providers in different healthcare settings. FNPs are also leaders in their healthcare organization, where they impact change. The reason is that they have the skills to impact change and develop progressive healthcare delivery models. They are the ones to manage the needs of a diverse population with the use of technology and information. As advanced practitioners, FNPs work independently and in partnership with other healthcare professionals, depending on the state regulations, while undertaking their role as leaders and clinical professionals. Various policy challenges are barriers to licensure and certifications and the scope of operation for APs. However, policymakers should engage stakeholders to ensure the medical realm accepts the policy.
📎 References:
1. American Association of Nurse Practitioners. (n.d.). States categorized by type.
2. Blair, K. A., & Jansen, M. P. (2015). Advanced practice nursing: Core concepts for professional role development. New York, NY: Springer Publishing Company.
3. Bryant‐Lukosius, D., Spichiger, E., Martin, J., Stoll, H., Kellerhals, S. D., Fliedner, M., & De Geest, S. (2016). Framework for evaluating the impact of advanced practice nursing roles. Journal of Nursing Scholarship, 48(2), 201-209. https://doi.org/10.1111/jnu.12199.
4. Maier, C. B. (2015). The role of governance in implementing task-shifting from physicians to nurses in advanced roles in Europe, the U.S., Canada, New Zealand and Australia. Health Policy, 119(12), 1627-1635. https://doi.org/10.1016/j.healthpol.2015.09.002.
5. Udlis, K. A., & Mancuso, J. M. (2015). Perceptions of the role of the doctor of nursing practice-prepared nurse: Clarity or confusion. Journal of Professional Nursing, 31(4), 274-283. https://doi.org/10.1016/j.profnurs.2015.01.004.