Nursing Insights & Resources
A Great Start in Your Career of a Licensed Practical Nurse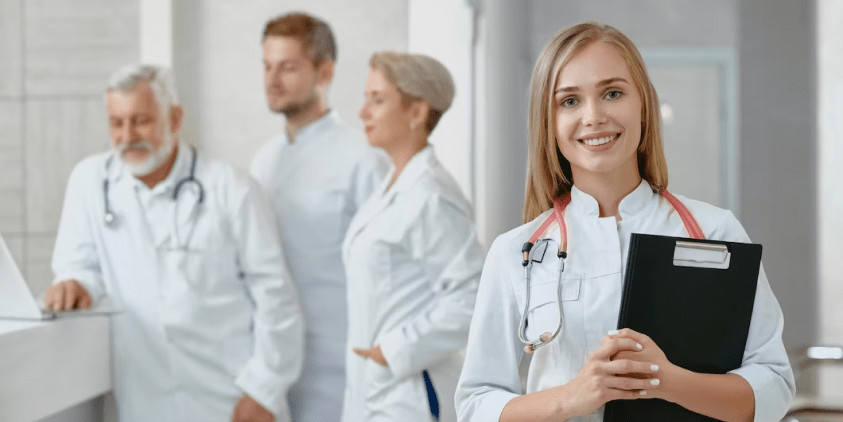 One of the first questions you need to ask yourself, getting involved in the work of a nurse, is about the choice of specialization. One of the options in the field of nursing is becoming a licensed practice nurse (LPN). This option for the entry-level nurses implies giving basic patient care to their patients.
Working with patients, licensed practice nurses make decisions under the supervision of doctors, health-care providers, and registered nurses (RNs). They give medical care at the basic level, building a bridge between the patient's family, the patient, health-care providers, and doctors.
What are the functions of LPNs? They educate the families on standard procedures and maintain the principles of effective communication in the team. Due to the efforts of the nurses, the members of the patient's family get to know how they can support the people they love.
Skills Required for a Good LPN
Only people sincerely interested in helping others and making the level of their wellness higher can consider the option of starting a career in nursing. Interaction between LPNs and patients, doctors, registered nurses, family members, and health-care staff makes their role extremely important. Thus, it is essential for them to develop good communication skills and learn to convey information with compassion. Communicating effectively, they show their excellent listening skills and demonstrate empathy towards everybody in the field.
A good LPN requires strong organizational skills which are needed in the demanding field of nursing. It is the job that demands a lot from a person. Can you do multitasking and manage a lot of information in a limited period of time? You should! Otherwise, the well-being and health of the patients can suffer. Lacking good organizational skills, you will be subject to mistakes and making the wrong conclusions.
What is also very important is your ability to be tolerant for bodily fluids and blood. In your work, you will have to touch, see, and smell things that people of other professions try to avoid. Dealing with peculiar features of a human body is a great challenge. Think twice whether you can cope with all that. You have to be aware of your limits, if any, before you take a serious decision about your career.
How Can You Become a LPN?
It is important for you as a person willing to be a Licensed Practical Nurse to choose a good school to study. It has to be an approved educational institution with a focus on the students' knowledge and integrity. Only having high-quality education, you can have good prospects for the future. LPN courses can be found in numerous community and private colleges.
Central Oregon Community College, Bend, Oregon
It is the school with two years of certification program for practical nurses. Since 1949, Central Oregon Community College with the campus on the western side of Bend is a popular choice of the students. There are several other campuses all around the Central Oregon area.
Although students need to study for two years, they can try to qualify and take the exam of national licensure after one year only. If the students study for two years, they ought not to meet any additional requirements. Thus, they graduate as registered nurses.
Official Website: Central Oregon Community College
Alabama Federation of Licensed Practical Nurses
This school with a three-semester program for practical nurses offers first-rate education. Its cost is viewed as affordable by the applicants, so it is one of the most popular among them. Some students require prerequisite courses to take as an addition. The studies begin in June for full-time students and finish in May. Students take their courses five days a week. However, they need to complete some of the courses in the evening time or even on Saturday and Sunday.
Bismarck State College
The history of Bismarck State College started in 1939. At present, its area is approximately 120 acres. The interview process for the applicants is very competitive and enrollment in the programs is limited. The Practical Nursing program has several levels. Thus, you may choose between a year for certification, a two-year Associate of Applied Science degree, and a program that allows you to progress and transit to the degree of a RN.
Official Website: Bismarck State College
River Valley Community College, Claremont, New Hampshire
The program for licensed practical nurses in this public community makes it possible for the graduates to get to a new level and earn an ADN (Associate Degree in Nursing). Having campuses all over the western part of New Hampshire, it has the accreditation of NECHE (New England Commission of Higher Education). Taking the program, you get a combination of activities in a simulation laboratory and in-class learning. Thus, the students get prepared for a career in the field of health care. The college is proud to claim that about 90% of graduates of this program get their first professional job within 6 months after they graduate.
Official Website: River Valley Community College
Feather River Community College
This college belongs to the California Community College system. The applicants may choose between the program for an Associate of Applied Science degree and a Certificate program for practical nurses. Education provided in the college is rightfully considered to be one of the best post-secondary options.
Official Website: Feather River Community College
LPN vs. RN
Registered nurses have a scope of practice that exceeds that of licensed practical nurses a lot. Being involved in patient care, LPNs take care of patients' comfort and do basic medical tasks.
The role of RNs implies having more management functions than that of LPNs. Providing treatment and developing care plans, they perform numerous medical tasks and administer medication. In fact, they are involved more in cooperation with doctors and not patients.
There are considerable differences between training and education and training of LPNs and RNs. A requirement for registered nurses is to have either BSN (bachelor's degree in nursing) or ADN (associate's degree in nursing).
Benefits of Career as a LPN
The option of a LPN diploma has numerous benefits for the nurses. Actually, it is a great choice among those related to nursing education.
How to Get a Job Quickly
On the average, you can graduate with a certification of a LPN within a year of participation in an accredited college program. Within approximately two-three months (6-12 weeks), graduates start their careers.
Pursuing a professional nursing degree takes as long as 4 four years. Thus, a practical nurse can get additional three years of work experience as compared to other options in nursing. Those students who need to cover their education expenses themselves and earn for their living, take this attractive option. Thus, they get a degree and then they work, improving their knowledge and getting new skills.
Solid Employment Growth
For over a decade, LPNs have been enjoying excellent employment opportunities. In the future, it is expected that there will be a 9% increase in development up to 2030. The aging of the US population creates an increasing demand for licensed practice nurses. They require procedures outside the hospital facilities and expect high-quality residential care, assisted living, and in-home support.
Work that Makes a Difference
A career choice related to giving help to people is always meaningful. Choosing the degree of a LPN, you show that you want to change someone's life for the better. You like helping those who are hurt, sick, or disabled. You will get a great sense of accomplishment as you will make weak people feel more engaged in life and work. Your commitment is always appreciated if you choose the career of a LPN.
LPN Career as a Starting Point for Further Growth
Ambitious graduates, willing to get more working hours, better salaries, and higher statuses, get the degree of a LPN first and then study further to become a RN at once. With solid experience in the field of nursing, they devote their time and energy to pursue the next degree. A RN degree may look attractive for you, but you need to learn how to manage your time well to cope both with studies and work.
Advanced Nursing Practice
Another option for nurses who wish to further their education and career is pursuing an advanced nursing practice role. Advanced practice registered nurses (APRNs) have a higher level of autonomy and are responsible for more complex patient care than LPNs and RNs. APRNs typically hold a master's or doctoral degree in nursing and are licensed as nurse practitioners, clinical nurse specialists, certified nurse-midwives, or certified registered nurse anesthetists. These roles offer increased responsibilities, higher salaries, and more opportunities for leadership and specialization within the field of nursing.
📎 Related Articles
1. How to Become a Licensed Practical Nurse (LPN)
2. What is a licensed practical nurse?
3. Licensed Practical Nurse (LPN)
4. Your guide to becoming a Licensed Practical Nurse (LPN)
5. Best LPN Programs In 2020 (Online & On-Campus)