Essay Examples
A Comprehensive Essay Sample on Mental Illnesses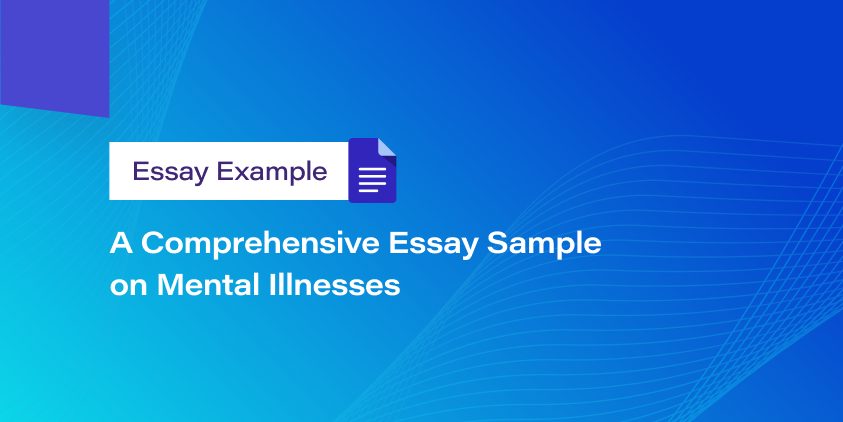 Mental illnesses refer to a wide range of disorders affecting a person's cognitive abilities, mood, and behaviors. Many people admit to having mental disorders or, at least, concerns from time, though most of them manage to overcome them and improve in the longer perspective. Yet, the rest must request psychological help to recover and improve their health conditions. To better understand the disorders faced by these people, it is necessary to cover key mental disorders, diagnosis and treatment options.
Diagnosing mental illnesses is performed using physical examinations, laboratory tests and psychological evaluation. At first, the person usually applies for help to the primary care facilities and consults with the doctor on the options for ruling out revealed psychological problems. Then, laboratory tests might be involved and include, for instance, checking thyroid function or screening for alcohol or drug abuse. Eventually, the psychological evaluation might greatly contribute to the enumeration of the symptoms and their synchronization with one of the mental diseases.
The person might suffer from some mental illnesses and disorders, and they all are grouped by symptoms or the cause that leads to their development. Bipolar and related disorders include alternating disorders and episodes of mania, changing periods of depression and increased excitement (APA, 2018). Depressive disorders generally involve the disorders that significantly affect one's emotional state, happiness, and sadness. These include dysphoric disorders, depression, anxiety and others. Neurodevelopmental disorders encompass a wide range of psychological problems that usually become evident in childhood, such as autism, attention deficit, and learning disorders (APA, 2018). Anxiety disorders are related to the worries and negative feelings associated with the future and various fears and excessive nervousness. Obsessive-compulsive disorders include obsessions or preoccupations with a profession, person, certain item or idea (APA, 2018). Examples of these include hoarding disorder and hair-pulling disorders. Dissociative disorders cause the person to sense oneself disrupted due to dissociative amnesia and dissociative identity disorder (APA, 2018). Sleep-wake disorders, such as insomnia, sleep apnea, and restless legs syndrome, significantly affect the sleeping capabilities of the person (APA, 2018). Gender dysphoria refers to disorders associated with the stress caused by a person's desire to be another gender.
Patients who suffer from mental illnesses and disorders are open to some treatment options. Usually, the treatment plan includes consultations with family or primary care doctors, nurse practitioners, physicians or psychologists. The person might be prescribed medications, which compensate for some of the needed substances that are not developed by the person's organism (APA, 2018). Antidepressants are used to treat depression, anxiety and other psychological conditions. They improve symptoms such as sadness, lack of energy, and difficulties with concentration. They are not addictive, so their consumption does not lead to dependency. Mood-stabilizing medications help patients to cope with various mood disorders and swings. Psychotherapy usually provides for talking about the problems and hardships experienced by the patient and related issues (APA, 2018). During psychotherapy, the patient reveals and learns more about his other mental problems, which eventually helps to cope with the stress and disorder by practicing coping and stress management skills. Brain stimulation treatment deals with depression and other mental health illnesses (APA, 2018). They are used in case psychotherapy, and medications are not effective. These might include electroconvulsive therapy, experimental treatments, magnetic stimulation and others. Hospital and residential programs are prescribed for those needing prolonged treatment and supervised by the professionals provided constantly.
📎 References:
1. APA. (2018). Psychology help center. Retrieved from https://www.apa.org/topics/mental-health/help-emotional-crisis